How it works:
The principle of an EGO-Shooter is to shoot at the center of the screen, which is why it makes sense to place a marker there. Just like a joystick for flight simulation, a ZIELMEISTER targeting device is the perfect enhancement for receiving best results. See what our customers think(German).
Currently in stock for you: a carefully hand-assembled high-end device for engineering enthusiasts taking pleasure in retro style as well as a beginner's version for everybody that wants to become familiar with the functionality.
All our products are MADE IN GERMANY and either consist of burnished weapon steel or of laser-cut stainless steel. Only that way the targeting devices bring the desired precision to your desk.
You can order via our shop system using credit card or by paying in advance. You can also choose from customer-approved and tested enhancements in our growing list of accessories.
---
The LC-01 is the low-price alternative for all those that want to try out a better gaming experience. The construction kit with all parts in stainless steel is delivered including the USB laser as well as the instructions for assembly and operation.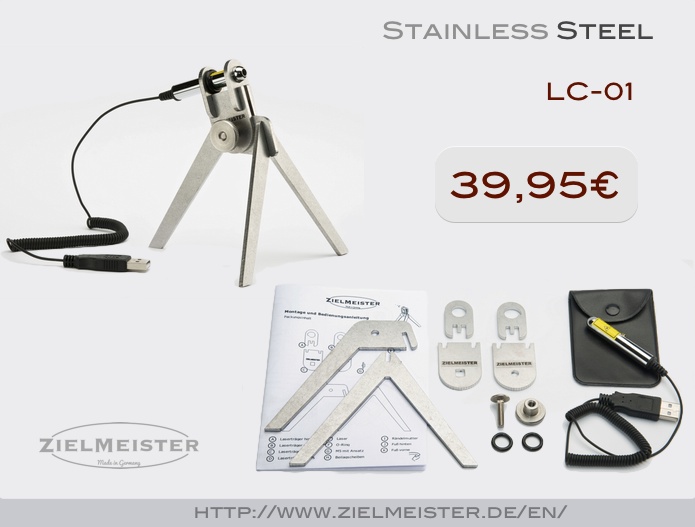 ---
ZIELMEISTER - the crucial
POINT

!

FAST AIMING. ZIELMEISTER projects a fine red dot on the centre of the screen, thereby reliably indicating where your shot will land. The laser aiming point shines much brighter than the equivalent display through pixels, which is why the ZIELMEISTER makes aiming much easier – In a nutshell: it enhances your performance.


PRECISE HITTING. The ZIELMEISTER ROT-V3 is an optical device of highest quality MADE IN GERMANY. The device was developed by players for players. It is consistently sophisticated and optimized down to the very last detail – for its sole purpose: providing a reliable red dot visor for FPS players.


SUPERIOR GAMING. Fun comes with success. There's a great many of pro-gamers around these days. Aside from a good deal of talent, the right equipment is of utmost importance, if you want to be able to catch on. The ZIELMEISTER will be a huge assistance when approaching best results.

To see our High-End device click here.